雖然不同學校有不同的做法,學校已有很多成功經驗,亦配合了「學生學習概覽」的目標和精神。我們鼓勵學校在選取任何工具協助學生建立「學生學習概覽」之前,應透過檢視及建基於現行的做法,決定一種「學生學習概覽」的開展策略。我們亦建議學校在發展該工具時參考下列多種不同做法。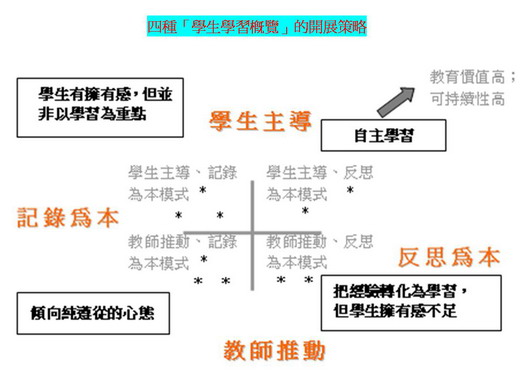 There is a wide range of good practices that already achieve the purposes of SLP in schools, although such practices may vary among schools. Schools are advised to decide on a school-based 'starting strategy' as an entry point to implement SLP, before adopting any particular tools. This could be done through reviewing and building on their existing practices. The following sets out some implementation procedures which schools might consider adopting as their SLP starting strategies.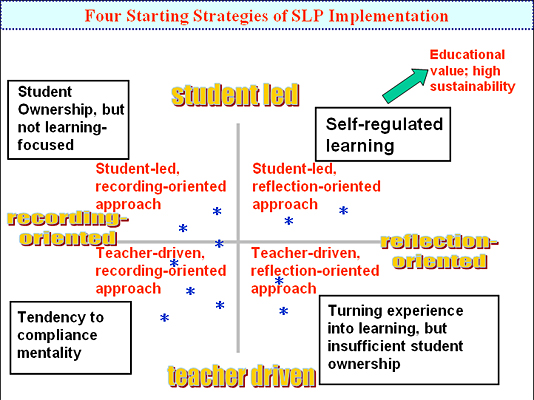 「學生學習概覽」的四種開展策略 Four SLP Starting Strategies
根據參與《促進學生在「學生學習概覽」上優質參與的策略與模式(2008-09)》種籽計劃的學校經驗,在草擬推行「學生學習概覽」的短期計劃時,學校需要顧及三項考慮,分別是行政、專業及技術的安排,在過程中,呈現了一些有關學校領導方面的缺欠,而根據這些短期計劃的經驗,學校訂定他們長期的計劃,把不同的「學生學習概覽」過程融合學生的學校生活。

Generated from the experiences of schools in the seed project "Approaches and models to enhance quality student involvement in SLP (2008-09)", there are 3 main concerns in drafting a short-term plan for implementing SLP, namely administrative, professional and technical concerns. In the process, a number of gaps related to school leadership are identified. Based on the experiences generated, schools will then project a long-term school plan to integrate various SLP processes in students' school life.
更新日期: 二零一七年七月二十四日
Updated:

24

Jul

2017
這個網站是為協助教師計劃高中的「其他學習經歷」和「學生學習概覽」而設立。建基在學校現有的優勢上,教師可使用這網站內有關的學校例子,以及社區資源去考慮如何更有效地推行「其他學習經歷」和「學生學習概覽」。本網站資源的版權屬教育局及相關機構所有,惟學校可下載作教學(非商業及非牟利)及參考用途。如有查詢,請致電2892 6242。
This website is established to help teachers plan the school-based OLE and SLP under the senior secondary curriculum. Building on the existing school practices, teachers could make use of the school examples and community resources as reference to consider how OLE and SLP could be implemented in an effective way. The copyright of the resources hosted in this website is co-owned by EDB and the organisations concerned. Schools could download the materials for learning and teaching (non-commercial and non-profit-making) and reference purpose. For enquiry, please contact us on 2892 6242.
---